While all my other friends are singing praises of the beautiful fall colors and posting pictures of beautiful skies and meadows all over facebook, Texas (at least College Station) decides to be a rebel, confusing October with unusually high temperatures and uncharacteristically long rainy days. I love rain, of course, but this whimsical, unsympathetic, and nagging rain is depressing. I do not like it one bit. There's something about the dreary sky and muggy walls and windows that reminds me of missed school days as a child.
I hated missing school, but my reasons were entirely non-academic. I hated missing friends' tiffins, discreetly playing box-box (is that what we called it?) and tick tac toe during class, cautiously humming Bollywood songs and dancing on the way to the toilets (Yes! I was so show-offy) and every other chance I got, and gossiping about everything and everyone. Oh, and I ran all over the school for no reason. However, I was late everywhere. I showed up late to school and stood in the "late line", showed up late to classes, and to dance rehearsals. I don't know what all the running was about. I just liked running, I guess. Did I mention that academics did not interest me at all? My mom says that this whole PhD thing is God's way of punishing me for not studying when I was supposed to. She may be right. 
Anyway, I hated missing school and breaking all the school rules. Like, we couldn't fold our socks (btw, socks folding was totes a thing in the 90s; very fashionable and all)! We were given these long granny socks that almost came up to our knees, but we couldn't fold them. So I wore my socks only one quarter of the way in such that I had a long flap hanging from my toes, which I then neatly folded inside my shoes. Uncomfortable as hell, but super smart. And of course we couldn't speak in the library, but we totally did, because, come on (!!!), Ms. Librarian,  can't you see? NO ONE is reading! Oh, and we also couldn't roll our sleeves up even if we were dying from heat strokes, because rules (it was a girls' school, btw). So, obviously we wore our sleeves up until someone spotted us and called us out. Also, we had a designated lunch period, and we weren't supposed to eat before then (the most agonizing and senseless school rule EVER! And why?!). So, naturally we had to eat our tiffins  before the designated tiffin period. We did not care if we got caught and had to stand outside of the class for the entire class period. We were such shameless little rebels, I tell you. 
So whenever I missed school my mom made me flans, which I love! She drizzled a warm orange caramel glaze over the  cold and dense pudding that complimented each other perfectly. To this day this flan recipe remains an instant lift-me-upper. Oh, and look, the sky is clearing. 🙂
Here is the recipe for orange caramel flan, or desi caramel pudding as we call it in India. Enjoy!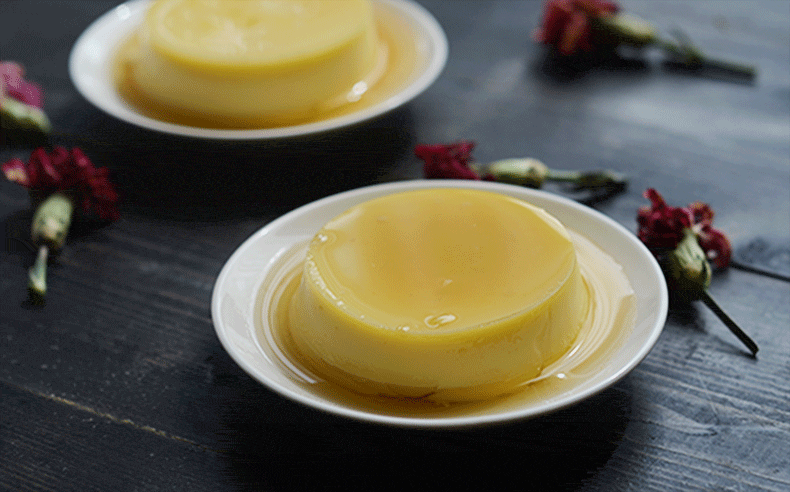 Orange caramel flan recipe
For the sauce
Ingredients:
2/3 cup sugar
1/4 cup water
1/2 cup orange juice
1/2 tsp orange zest
Instruction:
Take 1/4 cup water in a small heavy saucepan. Carefully pour 2/3 cup of sugar in the center, making sure that the sugar does not touch the sides of the pan. Start over medium-low heat until sugar dissolves. Increase heat and boil without stirring until deep amber color, occasionally brushing down pan sides with wet pastry brush and swirling pan, about 7-8 minutes.
Slowly add orange juice and orange zest (mixture will bubble vigorously). Stir over low heat until smooth. Cool completely.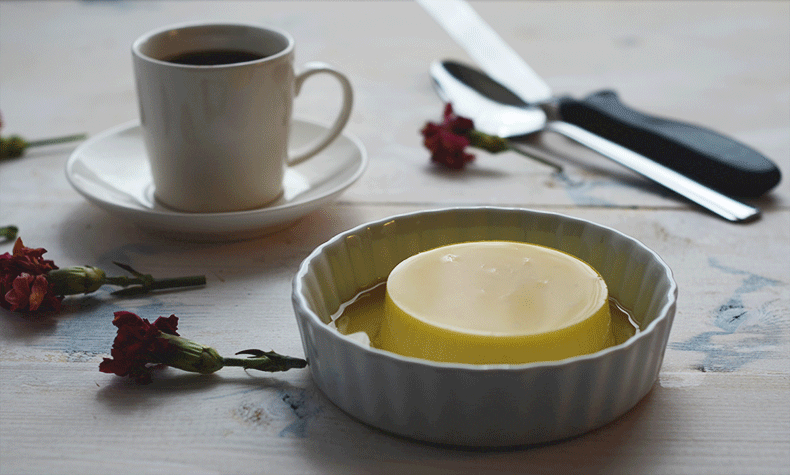 For the custard 
Ingredients:
3/4 cup sugar
4 eggs
2 cups milk
1 inch cinnamon stick
some orange peel
1/2 tsp vanilla extract
Instructions:
Preheat oven to 300°F (150°C)
In a bowl whisk the sugar and eggs until properly blended, for approximately 5 minutes.
Heat two cups of milk over medium heat with cinnamon, orange peel, and vanilla until it comes to a boil.
Pour the milk into the egg and sugar mixture, a little at a time, while whisking continuously.
When thoroughly mixed, strain the custard.
Fill a baking tray with a inch of water.
Pour the custard into ramekins and place the ramekins in the baking tray. Cover the tray with aluminum foil.
Bake for 30-35 minutes or until the custard is set but still a little soft at the center.
Let cool completely before serving.
Drizzle the orange caramel sauce on top and serve.