For eleven months you hear no mention of fruitcake in Kolkata, but suddenly in December it becomes the talk of the town as the whole city starts smelling like a giant oven. Suddenly in December the display counters of all confectionaries and groceries are lined with loaves of fruitcakes wrapped in parchment papers secured with golden decorative strings. In fact, some confectioners close their regular businesses and start selling only fruitcakes during Christmas. People stand outside of the popular confectionaries like Flurys and Nahoum's for hooourrss! Trust me when I say that this is not the regular appearance of seasonal foods like any other place; this obsession is obsessive. It is curious because in India our consumption of cakes are limited to birthdays and farewells; well they are becoming more popular these days with the popularity of coffee shops, but traditionally cakes are not part of the usual Indian kitchen repertoire.
But what makes the city suddenly lust after the mysterious fruitcake? How does this inexplicable substance that we can so comfortably do without for eleven months suddenly appear on our kitchen tables on/around Christmas day? What happens if we don't eat fruitcakes on Christmas? Has anyone experimented? (A Calcuttan answer to that last question will be a vehement negative.) Curious, I searched the internet, but it revealed little about this obsession. All I learned is that during the Victorian era fruitcake constituted an indispensable element of the English tea spread. I imagine it was this Victorian tea practice that was later introduced in Bengal, a custom that has been symbolically continued since.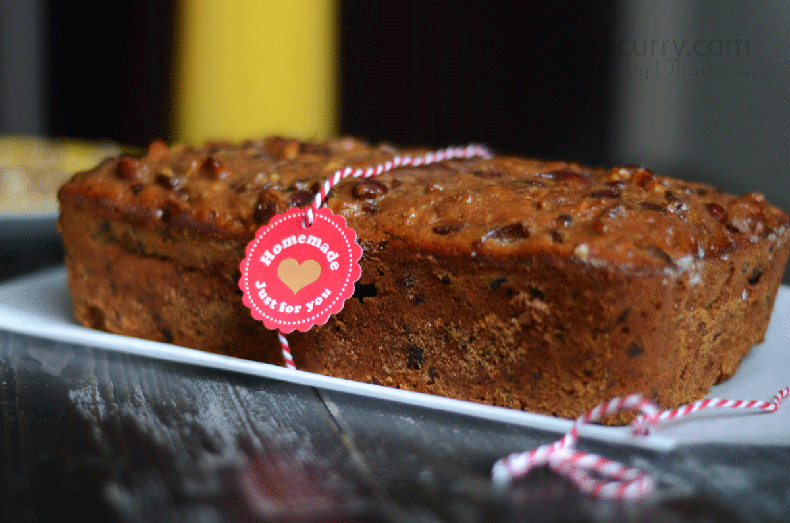 But what motivated us to keep this custom alive for centuries? The answer cannot be the love for fruitcake, because, honestly, few people love fruitcake. Furthermore, if we really cared so much about fruitcake it would be available all round the year, since the recipe does not use any seasonal ingredients. Capitalism can explain the current phenomenon, however, this seasonal obsession with fruitcake has always been there for as long back as I can remember. Unsatisfied with any of the obvious answers I researched the history of the recipe of traditional fruitcake and figured that over the centuries the fruitcake became fancier with the addition of "exotic" spices and dried fruits–cloves, cinnamon and ginger all of which are native to the South or South East Asia, as well as dates and raisins that come from the Middle East–and this transformation can be correlated with the expansion of British colonization along the spice trade routes. In other words, historically, the fruitcake is more than just a cake because it has stood witness to several hundred years of India's colonial history and her subsequent independence. The layers of warm spices and dried fruits in the cake along with the rum are reminders of the complex history of Bengal's/India's colonization as well as the cross cultural impact on and of Indian cooking. Therefore, the fruitcake, in many ways, can be thought of as a victory cake. 
Of course we don't go "Oh yes colonial history" when we bite on to a slice of fruitcake, but that history, although undisclosed, is implicit. In any case the fruitcake evokes nostalgia. And to understand that one needs a certain privilege, that of having spent a considerable period of time in Kolkata/Bengal. Any tourist that decides to join the madness outside of the cake shops in Kolkata will be largely disappointed with the rum rich sugary cakes. Not to say that the cakes are not tasty, but the madness surrounding them can make sense only to Calcuttans. Because the dense cake is like condensed memories of hours of adda; the candied dried fruits that off-set the rich rum flavors of the cake are an expression of the bitter-sweet memories of the city; the parchment paper that sticks to the cake is a reminder of the numerous languid Kolkata afternoons; the whiff of rum signals the sparks of joy in the apparent listlessness of the city. This hybrid Calcutta fruitcake is so popular precisely because it captures the spirit of Kolkata. Where else would you see millions of people irrespective of religion (Kolkata is predominantly Hindu) joining in the festivities surrounding Christmas?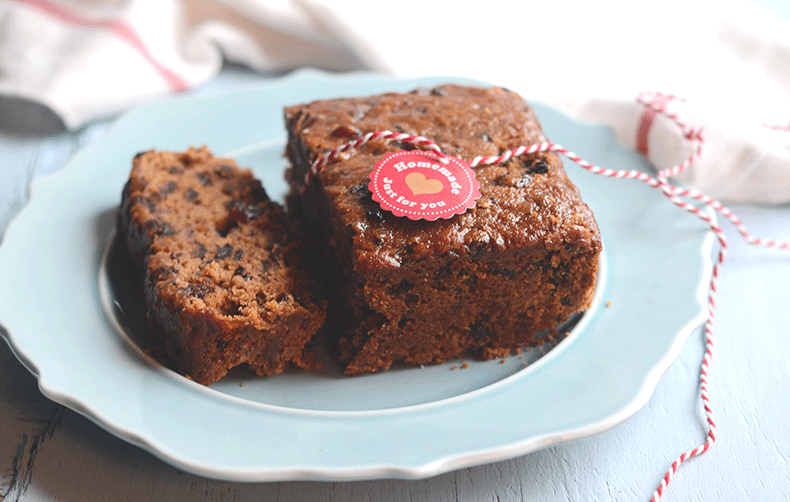 Fruitcake
2016-11-30 20:32:21
Ingredients
1 cup raisins
1/2 cup dried currants
1/2 cup dried cranberries
1/2 cup dried cherries
1/2 cup chopped dried dates (optional)
1 cup rum (or orange/apple juice for non-alcoholic option)
1 cup orange/apple juice
1 1/2 cups sugar
1 1/4 sticks unsalted butter (10 tbsp)
1 tsp lemon zest
1 tsp orange zest
1 tsp cinnamon powder
1 tsp clove powder
1 tbsp grated ginger
1 3/4 cups all purpose flour
1 tsp baking powder
1 tsp baking soda
1 tsp salt
2 eggs
1/2 cup chopped walnuts
Instructions
In a nonreactive metal pot add the dried fruits and rum/juice and let soak for 12 hours.
To the soaked fruits add orange/apple juice, sugar, butter, lemon zest, orange zest, cinnamon powder, clove powder, and ginger and bring to a boil stirring often. Then reduce the heat and let simmer for 10 minutes. Remove from heat and let cool completely.
While the mixture cools, preheat oven to 325°F.
Grease a 10″ nonstick loaf pan with cooking spray or butter.
Mix the flour, baking powder, baking soda, and salt in a bowl.
Now put the fruit mixture in a separate mixing bowl, add flour mixture and incorporate well.
Lightly beat the eggs in a separate bowl before adding to the cake batter. Mix well with a spatula (not a wire whisk), careful not to over mix.
Fold in the chopped walnuts.
Pour the cake batter into the pre-greased loaf pan and bake at 325°F for 50 mins to 1 hour, or until a tooth pick inserted comes out with a few moist crumbs.
Let cool completely before transferring the cake.
Notes
Fruitcake is best made 2 weeks in advance. Simply wrap the cake in parchment paper or aluminum foil and store in the freezer for 2 weeks.
Not A Curry https://notacurry.com/

Every year I make this cake for family and friends in Kolkata, and they love it! This year was no exception. I promise your family will love it too. Make it and let me know what everyone says!?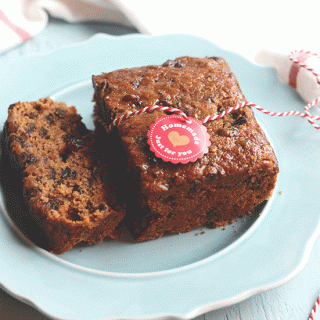 fruitcake
Equipment
A nonreactive pot

A large bowl

A sifter

A wooden spoon

A 10-inch nonstick loaf pan

A pastry brush

Parchment paper

Aluminum foil or plastic wrap
Ingredients
1

cup

golden raisins

1

cup

currants

2

cup

mixture of your favorite dried fruits

1/4

cup

candied ginger

optional

1

lemon zested

1

orange zested

1

cup

bourbon or rum

1

cup

unfiltered apple juice

2

cup

sugar

1 1/4

sticks butter

4

whole cloves

ground

1

tsp

ground cinnamon

1

tsp

ground ginger

1 3/4

cup

all-purpose flour

1 1/2

tsp

salt

1

tsp

baking soda

1

tsp

baking powder

2

eggs

1/2

cup

chopped pecans or walnuts

1

cup

brandy

optional

1/2

cup

water

1

cup

Orange, cranberry or apple juice
Instructions
Plan ahead Fruitcake should be made at least two weeks ahead to give the fruit and brandy time to age, so be sure to leave yourself enough time.

Soak the fruit Combine the raisins, currants, mixed dried fruit, ginger, and citrus zest in the nonreactive pot. Then pour the bourbon or rum over the fruit and let it soak overnight.

Heat fruit mixture To the soaked fruit, add the apple juice, sugar, butter, cloves, cinnamon, and ground ginger. Bring to a boil, stirring often. Then the reduce heat and let it simmer. After 10 minutes, remove from heat.

Preheat oven Preheat oven to 325 degrees.

Prepare the batter In a bowl, mix the flour, salt, baking soda, and baking powder.

Combine fruit and flour mixtures When the fruit mixture has cooled for 15 minutes, sift the flour mixture into it. Then combine using the wooden spoon.

Add eggs and nuts Mix in the eggs one at a time, and then fold in the chopped nuts.

Bake Pour the batter into the loaf pan and bake for one hour, or until a toothpick inserted in the middle comes out clean.

Liquor it up! Using the brush, baste the top with some of the brandy or fruit juice. Let the loaf cool completely before removing it from the pan.

Wrap it up Wrap the cake in parchment paper, then in aluminum foil or plastic wrap, and store in a cool, dark place. Check the cake every few days and, if dry, brush it with enough brandy or juice to moisten—not soak—it. Then rewrap tightly.

Glaze and garnish Just before serving, heat the remaining sugar with water over medium heat until the sugar dissolves. Brush this glaze over your fruitcake and garnish with dried fruits and nuts.
Notes
For non-alcoholic fruitcake, use orange, cranberry or apple juice instead of bourbon or rum.
A nonreactive pot is one made of stainless steel, anodized aluminum, or enameled aluminum—not aluminum on its own.
If you're planning to freeze the fruitcake, age it first.
Nutrition
Calories:
5627
kcal
Carbohydrates:
1209
g
Protein:
72
g
Fat:
16
g
Saturated Fat:
4
g
Cholesterol:
327
mg
Sodium:
4951
mg
Potassium:
4505
mg
Fiber:
40
g
Sugar:
818
g
Vitamin A:
648
IU
Vitamin C:
19
mg
Calcium:
779
mg
Iron:
35
mg